Eldor Shomurodov remembers his first meeting with Jose Mourinho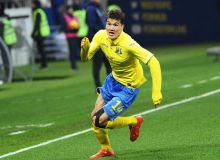 Uzbekistan national football team and Russian Premier League club FC Rostov player Eldor Shomurodov told about the first meeting with his agent and Manchester United former head coach Jose Mourinho in his interview on Match TV.
"How did I get acquainted with German Tkachenko? He was introduced to me by Samvel Babayan, who was the head coach of our national team. I met with Tkachenko on match day. However, he didn't tell that we would meet with Mourinho, but he said there would be a surprise.
I didn't believe it before, we greeted and talked together. He was working as commentator at the Asian Cup 2019 in UAE. Tkachenko explained to Jose that I played there and scored goals. And, Mourinho said he had known about it" Shomurodov said.