FC Sogdiana earned a 3-0 win over FC Dinamo in Jizzakh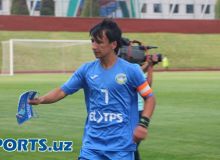 FC Sogdiana welcomed FC Dinamo to the Sogdiana Stadium for their Uzbekistan Super League fixture on Tuesday.
The hosts took a huge step towards the league medals with a 3-0 victory over FC Dinamo in front of the home crowd.
Sanjar Rashidov broke the deadlock after a 51-minute goalless period, while Shohruz Norkhonov and Sardor Kulmatov were also on the scoresheet as Jizzakh side claimed vital points.
Sogdiana

Sanjar Rashidov

51'

Shohruz Norxonov

60'

Sardor Qulmatov

70'

Superleague Matchday 23

29/10/2019 17:00

Finished

Dinamo

Stadium: Central stadium "Sogdiana"

Referee: Sherzod Qosimov