Hector Cuper to attend press conference ahead of 2019 China Cup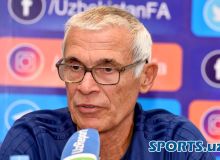 Uzbekistan national team head coach Hector Cup will attend the press conference at the Uzbekistan Football Association on Thursday.
Uzbekistan will participate in the 2019 China Cup International Football Championship will take place in Guanxi province on March 21-25.
White Wolves will start their participation with an opening match against Uruguay in the single-elimination tournament on March 22, 2019.
China will struggle with Thailand for a spot in the final against the winner of Uzbek & Uruguay clash will be held on March 25, 2019.
Croatia, Chile, Uruguay, Iceland, Wales and Czech Republic took part in the previous two editions of China Cup.