Islom Qobilov secures a 1-1 draw for White Wolves with FC Istanbul Bashakshehir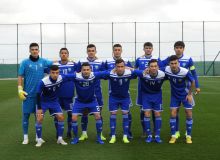 Uzbekistan national under-23s team kicked off Turkish training camp ahead of the 2020 AFC U-23 Championship Qualification Round after they finished training sessions in Spain.
The White Wolves will play a friendly match against FC Istanbul Bashakshehir U-23 side on Wednesday. A goal from Islom Qobilov secured a 1-1 draw for Uzbekistan U-23.
The reigning champions of 2018 AFC U-23 Championship will struggle with Tajikistan, India and Pakistan for 2020 AFC U-23 Championship tickets in Tashkent on 22-26 March 2019.