Jasur Jaloliddinov seeks linkup with Russian international Aleksei Miranchuk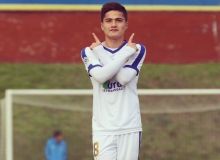 The highly-rated youngster joins Lokomotiv on a five-year deal from FC Bunyodkor after appearing more than 30 times for the club at senior level.
18-year-old Uzbekistan prodigy Jasur Jaloliddinov has joined Russian powerhouse Lokomotiv Moscow in a transfer announced on Wednesday.
He follows in the footsteps of Vitaliy Denisov, Aleksei Polyakov, Vladimir Maminov and Oleg Pashinin as Uzbekistan internationals to play for Lokomotiv, who finished second in the recently completed 2019-20 Russian Premier League.
The teenager, who made his international debut against Belarus in February, said he was looking forward to joining Lokomotiv, and linking up with Russian international Aleksei Miranchuk.
"Of course, I already know a lot about Lokomotiv," Jaloliddinov told the club's official website.
"Even before the transition I watched a film about the Championship, studied the history of the club, and I know which players play in the team. I want to meet Alexey Miranchuk, we play in the same style.
"I'm a little nervous, but it's good, because I feel responsible. When the match starts, the nerves will go away."
A versatile midfielder, he earned global attention when he was named by The Guardian newspaper as one of the Top 60 young talents in world football in 2019 and was also crowned Uzbekistan's Young Player of the Year last December.
Found mistake? Select it and send us (Ctrl + Enter)