Match Highlights. FC Kizilkum 0-2 FC Pakhtakor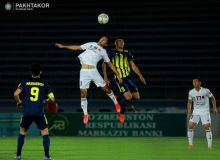 A 47-minute strike from Doston Khamdamov saw the visitors in command before Eren Derdiyok headed in from a close range to put the Lions in a two-goal lead.
FC Pakhtakor secured their place in the Uzbekistan Super League table courtesy of a 2-0 win over FC Kizilkum at Yoshlik Stadium this evening.
Match Highlights
Found mistake? Select it and send us (Ctrl + Enter)