Match Highlights. FC Metallurg 0-1 FC Sogdiana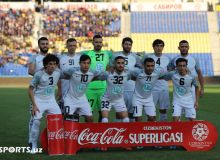 Sanjar Rashidov scored his second goal in the Uzbekistan Super League as FC Sogdiana recorded a 1-0 win over FC Metallurg at Metallurg Stadium on Friday.
Both sides had plenty of the ball during the 90 minutes of action, but Sanjar Rashidov's 37rd-minute strike saw Jizzakh side's pick up a huge three points against their out-of-form visitors.
Match Highlights