Match Highlights. FC Navbahor 2-0 FC Sogdiana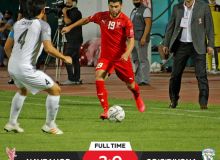 It took 71 minutes to break the deadlock at the Navbahor Central Stadium, while Ruslan Bolov opened the scoring for the hosts.
FC Navbahor had few chances to increased the lead as Ruslan Bolov doubled the advantage for Andrei Kanchelskis' side 4 minutes to complete.
Match Highlights
Found mistake? Select it and send us (Ctrl + Enter)