Match Highlights. Uzbekistan 2-3 Saudi Arabia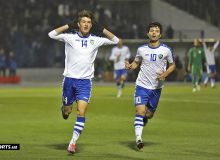 Uzbek side applied heavy pressure and were rewarded after just 16 minutes, with Ikromjon Alibaev forcing Saudi defender Yasir Gharsan Alshahrani into making a poor back pass, which Eldor Shomurodov neatly intercepted and blasted past 'keeper Mohammed Alowais.
The visitors had that chance six minutes later, when Rustamjon Ashurmatov brought down a surging Feras Tariq Albrikan in the box, and referee Ryuji Sato did not hesitate in pointing to the penalty spot, which Saudi skipper Salman Al Faraj neatly converted.
Uzbekistan were once again on the prowl in the second half and 10 minutes in, were awarded a penalty when Alshahrani was fouled for handling the ball and Shukurov made no mistake with the spot kick.
The Uzbek defence eventually cracked in the 85th minute as Salem Al Dawsari's cross was not properly dealt with by Farrukh Sayfiev, and Saudi captain Al Faraj volleyed home the loose ball to make it 2-2.
Vadim Abramov's charges were now under pressure and cracked again just before the 90th minute mark as Al Dawsari beat the Uzbekistan defenders and lobbed the ball over 'keeper Eldorbek Suyunov to complete the comeback win.
Match Highlights