Olympic Council of Asia President Ahmed Al-Sabah makes a visit to Uzbekistan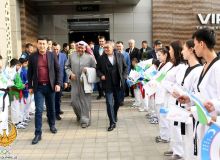 Olympic Council of Asia President Ahmed Al-Fahad Al-Ahmed Al-Sabah made a visit to Uzbekistan on Sunday. International Boxing Association (AIBA) President Gafur Rakhimov, Uzbekistan National Olympic Committee (NOC) officials led by NOC President Umid Akhmadjanov, and media welcomed OCA delegation at the Tashkent International Airport.
International Kurash Association President Khaydar Farmon and Olympic Council of Asia Secretary Lyuson Alvares were included in the OCA delegation as it was paid special attention to expanding cooperation with international organizations in the field of sports and further development of mutual relations.
During the visit of OCA delegation to Uzbekistan, the development of cooperation between Uzbekistan National Olympic Committee and Olympic Council of Asia (OCA) and the possibility of hosting 2030 Asian Games were discussed, as well as, the sides discuss other issues relating to the development of sports in Uzbekistan.