Oybek Kilichev backs to FC Andijan after seven seasons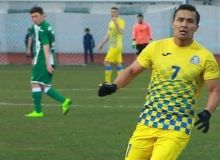 Oybek Kilichev backed to his former club FC Andijan after a 7-year period, reports club's media department on Wednesday.
Kilichev, who played for FC AGMK last season, scored 2 goals for Andijan side in 18 Uzbek League matches in the 2011 season.
The 30-year-old played for Uzbekistan's Andijan, FC Pakhtakor, FC AGMK and FC Navbahor, Al-Shaab CSC of United Arab Emirates, Iranian Paykan FC and Malaysian Perak FC in his career.