Ravshan Irmatov announces his retirement from refereeing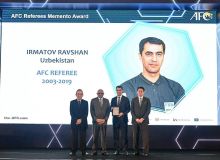 The Asian Football Confederation (AFC) on Tuesday celebrated the achievements of its leading match officials at the start of the biggest-ever AFC Refereeing Conference which was held in Kuala Lumpur, Malaysia.
The opening ceremony honoured eight referees and assistant referees who were presented the AFC Referees Memento Award. The officials were recognised for their outstanding service in raising the refereeing standards in Asia.
Three-time FIFA World Cup referee, Ravshan Irmatov from Uzbekistan was joined by Australia's Peter Daniel Green and Nagor Amir bin Noor Mohamed from Malaysia in receiving the award in the Referees category.
Five-time Asian referee of the year, Ravshan Irmatov announced his retirement from refereeing in the conference.