Sharofiddin Boltaboev finishes his 2020 Paris Grand Slam campaign with a silver medal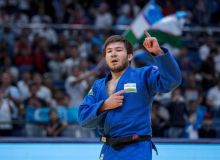 Tashkent Grand Prix winner Sharofiddin Boltaboev of Uzbekistan faced World silver medallist Matthias Casse from Belgia in -81kg category final.
In the Paris Grand Slam 2020 final, Boltaboev was penalised for the third and final time after one minute of golden score to receive hansoku-make as World Judo Masters champion Casse won IJF gold in consecutive events for the first time.
Uzbek judoka Boltaboev will be pleased to have opened his Grand Slam medal account in the French capital and to have bolstered his place within the world's top-ranked judoka.
Final Results
1. CASSE Matthias (BEL)
2. BOLTABOEV Sharofiddin (UZB)
3. VALOIS-FORTIER Antoine (CAN)
3. FUJIWARA Sotaro (JPN)
5. EGUTIDZE Anri (POR)
5. RASULOV Kamoliddin (UZB)
7. GOTONOAGA Dorin (MDA)
7. MUKI Sagi (ISR)