Three Uzbek boxers will fight in October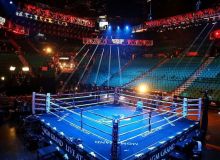 They are collaborating with a Russian boxing promotion.
Rio Olympics medalist Rustam Tulaganov, Uzbek national champions Ulugbek Mubinov, Odiljon Aslonov and Asian Championship bronze medalist Shukurjon Rakhimov have been cooperating professionally with Russian promotion "Patriot".
According to their coach Ravshan Khojaev, middleweight Odiljon Aslonov (2-0, 1KO) and Super featherweight Shukurjon Rakhimov will return to the ring on the same card while light heavyweight Rustam Tulaganov (3-0, 1KO) in another fight evening. The exact date and competitors are not yet known. Rustam Tulanganov once set to fight on August 15th for WBC International title but the bout was cancelled due to the trevel restrictions. So we can still expect his fourth bout for regional title. Exact dates and opponents have not been clarified yet.
Found mistake? Select it and send us (Ctrl + Enter)