Uzbekistan's strong duo Sukhrobjon Kayimov and Shokhjakhon Abdullaev both win the titles in Ulaanbaatar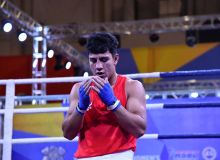 Two Uzbek boxers were crowned as champions at the ASBC Asian Confederation Youth Boxing Championships in Ulaanbaatar, Mongolia today.
Uzbekistan's middleweight (75kg) No.1 Sukhrobjon Kayimov eliminated against China's Ayiduosi Entemake and Kyrgyzstan's young Islombek Turgunov during his road to the finals. The 18-year-old Uzbek Youth National Champion had an emotional moment against Kazakhstan's Azamat Bektas when the winner of the bout was confirmed. Uzbekistan's first success was taken by Kayimov who attacked more than his Kazakh opponent in the final.
Uzbekistan's second gold medal was quickly achieved by 17-year-old Shokhjakhon Abdullaev who was too strong for China's lone male finalist Halimulati Rehemandu at the light heavyweight (81kg).
Uzbekistan national boxing team finished fourth in the final medal table with 2 gold, 5 silver and 7 bronze medals.