Uzbekistan play a 2-2 draw with Tajikistan in the CAFA U-19 Championship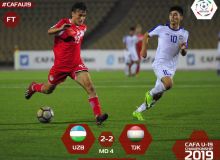 Tajik side's perfect record came to an end, but Rustam Soirov salvaged what may yet prove to be a crucial point as Tajikistan and Uzbekistan played out an entertaining 2-2 draw in the evening kick-off.
The result means Zaynidin Rakhimov's side will still win the title if they can defeat Iran in what has developed into a virtual tournament final on Thursday.
Iran's earlier win against Afghanistan meant any chance of Uzbekistan retaining their regional title had been dashed before kick-off, but Otabek Gulyamkhodjaev's charges pushed Tajikistan all the way in a spirited encounter.
There was no early sign of the struggle to come for the Tajiks, particularly when Amadonio Kamolov curled in a delightful 25-yard opener in just the fifth minute, but Uzbekistan levelled at the half-hour mark through an Odilbek Abdumajodiv header to go to half-time on level terms.
Tajikistan fell behind for the first time when they were caught cold by a quickly-taken free-kick in the 62nd-minute, with Ibrokhimkhalil Yuldoshev showing the composure required to beat Shohrukh Qirgizbaev from 15 yards to make it 2-1 to the visitors.
With their unbeaten record in jeopardy, the 4,000 strong home crowd – the tournament's biggest so far – urged Tajikistan on, and they were brought to their feet when substitute Soirov pounced on some sloppy defending to head home the equaliser with 13 minutes remaining.
The drama didn't end there. Uzbekistan's Hojimat Erkinov was shown a second yellow card in the second minute of stoppage time, and only goalkeeper Muminmirzo Qoirov's fingertips prevented Soirov from heading in what would have been a last-gasp winner a minute later.
Despite the action packed second-half, the sides couldn't be separated, leaving everything riding on Tajikistan's meeting with frontrunners Iran, while only pride will be on the line in Uzbekistan's remaining fixture against Turkmenistan.
Photos: Central Asian Football Association