Uzbekistan play three friendly matches in Dubai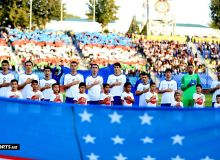 Uzbekistan will organise training sessions in Dubai from February 18 to February 24, 2020.
Vadim Abramov's side will play in three friendly matches ahead of Asian Qualifiers game against Yemen in March.
Uzbekistan returned to the top of the Group D standings as a convincing 2-0 victory over Palestine saw the Central Asians started the second half of their FIFA World Cup Qatar 2022 and AFC Asian Cup China 2023 Asian Qualifiers campaign in fine fashion.