Uzbekistan U-16 to organise two friendlies with UAE U-16 in Uzbekistan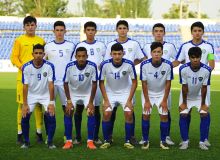 Uzbekistan national under-16s football team will organise two friendly matches against UAE U-16 in Uzbekistan on September 8 and September 11.
Under the coaching of Azamat Abduraimov, Uzbek side will also take part in the Star Way Valentin Ivanov Memorial Tournament in Moscow on August 20-26 as they will compete with Turkey, Serbia and Russia in the seven-day-long tournament.
Last week, Junior White Wolves earned the title at the Wings of Memory (Xotira Qanotlari) Memorial Tournament dedicated for the 40th year of the "Pahtakor" Tragedy 1979.