Uzbekistan's Oksana Chusovitina wins vault at Paris Challenge Cup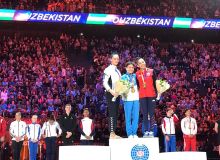 Uzbekistan's 11-time World Championships medalist and three-time gold medalist is now 44, and won the Vault at the FIG World Challenge Cup Vault in Paris on Sunday.
Her score of 14.300 easily out-distanced Sara Peter (HUN: 13.900) for her first win this season and fourth medal in the World Cup and World Challenge Cup programs combined.
France won two events, with Loris Frasca taking the men's Vault (14.850) and Melanie de Jesus winning on the Uneven Bars (14.650).
The 2017 High Bar World Champion, Tin Srbic (CRO) won his specialty at 14.900, ahead of Russian Sergei Eltcov (14.700).
Women's Vault: 1. Oksana Chusovitina (UZB), 14.300; 2. Sara Peter (HUN), 13.900; 3. Franchesca Santi (CHI), 13.750.