When is Zarrukh Adashev going to fight in UFC again?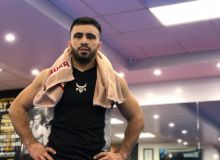 He took the training seriously.
You are aware that MMA fighter Zarrukh Adashev has signed a contract with the UFC and made his debut fight in this promotion. It's clear all fans are wondering when his next fight will be. With that in mind, we contacted Adashev and asked him when his next appearance in the UFC was scheduled.
"Now, I have come to Las Vegas to hold training sessions and start preparing. My second fight in the UFC promotion is expected to take place in November. But the exact date and opponent is not yet known." Adashev said.
Adashev lost in his first fight in the UFC after a short period of preparation against Tyson Nam.
Found mistake? Select it and send us (Ctrl + Enter)