Photo Gallery. FC Andijan 3-0 FC Navbahor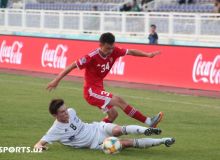 FC Andijan earned a knockout stage spot in Uzbekistan League Cup after beating FC Navbahor with a 3-0 win on Sunday.
The hosts went to the break with a 1-0 lead through Sardor Sulaymonov's opener in the 35th minute of the game. Dilshod Rakhmatullaev doubled the advantage 5 minutes into the second period before Doniyor Ismoilov increased the scoring at the Soghlom Avlod Stadium.
Photo Gallery
Found mistake? Select it and send us (Ctrl + Enter)