Russian MMA legend expresses his attitude to Uzbek fighters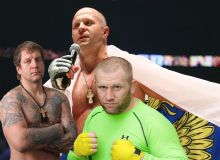 Russian MMA fighter Sergey Kharitonov is well known to fans. He is a prominent athlete in the heavyweight division of the mixed martial arts world. Throughout his career, he has had brilliant fights in promotions such as M-1, Pride, Strikeforce, and Bellator. He was also able to beat celebrities who shone in UFC at the time, such as Alistair Overeem, Roy Nelson, Fabrisio Verdum, Matt Mitrione, Andrei Arlovski, Pedro Rizzo (some of whom reached the championship level). This 40-year-old legend came out with a unique appeal to the Uzbek warriors.
"Guys, train and win. All Uzbek fighters, do not step back, only forward ... I wish you good luck, success and development" he responded.
Found mistake? Select it and send us (Ctrl + Enter)