2019 Uzbek League kicked off as FC Andijan and FC Kizilkum share the points in Navoi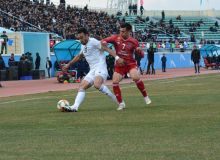 The twenty-eighth inaugural season of Uzbekistan Super League has been kicked off with an opening match between FC Kizilkum and FC Andijan in Navoi.
After a one-year ban, Oybek Kilichev made a great comeback with his stunning goal from a free-kick for FC Andijan in the 30th minute of the game giving a 1-0 lead for Andijan side at the interval.
A 72-minute strike from Sherali Juraev put the sides on level at the Yoshlik Sports Complex, but the score remained unchanged as the sides shared the points in the season opener.
Qizilqum

Superleague Matchday 1

08/03/2019 17:00

Finished

Andijon

Stadium: "Yoshlik" stadium, 7853 spectators

Referee: Viktor Serazitdinov