A 22-man Uzbekistan U23 leave for Seoul training camp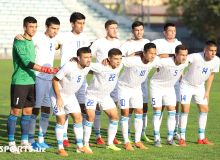 Uzbekistan U23 left for Seoul training camp ahead of the 2020 AFC U23 Championship will take place in Thailand next January.
Uzbek side will also play two friendly matches during the training camp, reports Uzbekistan Football Association.
The White Wolves will contest with Korea Republic U23 at the Hwaseong Sports Complex on October 11, 2019. The second Uzbek & Korean clash will be held at the Cheonan Stadium on October 14, 2019.
Lyubinko Drulovich has called 22 players for Seoul training camp.
| | | | | |
| --- | --- | --- | --- | --- |
| # | Name | Date of Birth | Position | Club |
| 1 | Abduvohid Ne'matov | 20.03.2001 | Goalkeeper | Nasaf |
| 2 | Nizomitdin Ziyovutdinov | 25.04.1998 | Goalkeeper | AGMK |
| 3 | Dilshod Saitov | 02.02.1999 | Defender | Nasaf |
| 4 | Islom Kobilov | 01.06.1997 | Defender | Bunyodkor |
| 5 | Husniddin Alikulov | 04.04.1999 | Defender | Nasaf |
| 6 | Ilhom Alijonov | 05.03.1998 | Defender | Navbahor |
| 7 | Sherzod Nasrullaev | 23.07.1998 | Defender | Nasaf |
| 8 | Oybek Rustamov | 02.04.1997 | Defender | Kokand-1912 |
| 9 | Ibrohim Yuldashev | 05.06.1999 | Defender | Metallurg |
| 10 | Shahboz Jo'rabekov | 02.02.1997 | Defender | Sogdiana |
| 11 | Islom Rashidkhonov | 22.10.1997 | Midfielder | Nasaf |
| 12 | Oybek Bozorov | 07.08.1997 | Midfielder | Nasaf |
| 13 | Abdulla Abdullaev | 01.09.1997 | Midfielder | Bunyodkor |
| 14 | Abrorbek Ismoilov | 08.01.1998 | Midfielder | FC Surkhon |
| 15 | Nurillo Tukhtasinov | 19.02.1997 | Midfielder | Bunyodkor |
| 16 | Oston Urunov | 19.12.2000 | Midfielder | Lokomotiv |
| 17 | Jasur Yakhshibaev | 24.06.1997 | Midfielder | AGMK |
| 18 | Asad Sobirjonov | 03.08.2000 | Midfielder | Bukhara |
| 19 | Doston Ibragimov | 23.01.1997 | Midfielder | Kizilkum |
| 20 | Azizbek Amonov | 30.10.1997 | Forward | Lokomotiv |
| 21 | Mirjahon Mirahmadov | 15.07.1997 | Forward | Bunyodkor |
| 22 | Bobir Abdikholikov | 23.04.1997 | Forward | Nasaf |