A perfectly timed counter-punch knocks Zarrukh Adashev out in his UFC debut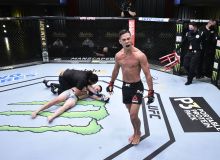 Zarrukh Adashev (3-1) was only called up to take part in this event earlier this week after Ryan Benoit withdrew to face Tyson Nam.
On Saturday at UFC on ESPN 10, Tyson Nam absolutely obliterated Zarrukh Adashev with a picture-perfect counter right hand just 32 seconds into the first round of their flyweight fight at the UFC Apex in Las Vegas.
Adashev came out with an early mini-blitz, indicating he was ready for a scrap. Which apparently was all good with Nam, who delivered the boom moments later.
Found mistake? Select it and send us (Ctrl + Enter)