A press conference dedicated to the General Assembly of the Asian Fencing Confederation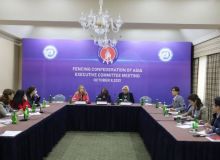 The General Assembly of the Asian Fencing Confederation is held in Tashkent today
A press conference dedicated to this event was held yesterdayn
The press conference was attended by Secretary General of the Fencing Federation of Uzbekistan Gulnara Saidova, head of the Asian Fencing Confederation Rusni Al Hassan, who currently heads the organization, representative of the International Fencing Federation Velichka Hristeva, who arrived to observe the event and members of the media.
"A very important event awaits us. We thank the Government of Uzbekistan for its support in difficult times. The next General Assembly of our organization will be held tomorrow. Within the framework of the event, a new head of the Confederation will be elected, who will lead it until 2024," said Rusni Al Hassan.
In turn, Velichka Hristeva expressed her opinion:
"I am visiting Uzbekistan for the fifth time. After each of my visits, I observe how your country is developing rapidly. The President of the International Fencing Federation, Alisher Usmanov, noted that the elections should be transparent and my colleagues chose my candidacy as an observer. I was convinced that Uzbekistan, as the host of such an important event, organized everything at a high level."
According to the responsible persons, representatives of Singapore and the UAE are being nominated for the post of head of the organization in the new Olympic cycle. During the General Assembly, in addition to the head, vice-presidents and members of the Executive Committee of the organization will be elected.
Матнда хатолик топсангиз, ўша хатони белгилаб, бизга жўнатинг (Ctrl + Enter)