AGMK down Naft Al Wasat to claim a three-point bag in 2019 AFC Futsal Club Championship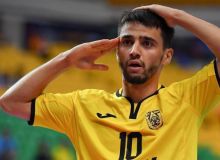 AGMK FC of Uzbekistan bounced back in style from their opening day loss to defeat Iraq's Naft Al Wasat 5-3 in Group B of the AFC Futsal Club Championship Thailand 2019 on Friday.
Naft Al Wasat, who defeated Qatar's Al Rayyan 9-4 in their opening match, pressured AGMK early on when Salim Faisal fired his shot into the side netting following a set-piece situation.
AGMK, however, were equally adept in attack and Ikhtiyor Ropiev - who went on to score a hat-trick - forced a save from Naft Al Wasat goalkeeper Yahya Abdulnoor in the third minute with a long-range effort.
Naft fought hard to find their way into AGMK territory but the Uzbekistan side, who lost 4-1 to Thai Son Nam in their opener, were well organised at the back.
AGMK gave the Iraqis a scare a minute later when Akbar Usmonov rattled the post with his effort from above the arc after losing his marker and the Uzbeks came close to scoring again two minutes later but Khusniddin Nishonov fired his effort straight at Yahya Abdulnoor.
Both teams jostled for possession but it was Naft Al Wasat who broke the deadlock in the 14th minute after Angellott Alexander Garces scored from close range off Farhad Tavakoli's assist.
AGMK came back fighting and levelled the score a minute later through Ropiev, who lost his marker above the box before firing a low drive past Yahya Abdulnoor.
AGMK, who are making their fourth appearance in the Continental club competition, threatened Naft Al Wasat in the remaining minutes of the half but the Uzbekistan club could not find the target as the score remained 1-1 going into the break.
Naft Al Wasat increased their intensity at the start of the second half but that did not rattle AGMK as the Central Asians stayed calm under pressure.
AGMK's resilience was rewarded when they took the lead in the 25th minute after Ropiev beat the Naft Al Wasat defenders before firing from a tight angle past Yahya Abdulnoor.
It was end to end action as both teams increased the tempo of the game but AGMK were the more threatening as they looked to increase their advantage.
The momentum shifted in AGMK's favour as Anaskhon Rakhmatov then made it 3-1 for AGMK in the 31st minute.
Naft Al Wasat were caught napping moments later as Ropiev increased AGMK's advantage when he notched his hat-trick with a right footed shot after finding space down the centre.
Naft Al Wasat tried to force their way back into the match but AGMK scored their fifth goal when Nishonov Khusniddin scored from his own half into an unguarded goalmouth.
Naft Al Wasat finally found the net in the 40th minute through Anaskhon Rakhmatov's strike and Angellott Alexander Garces added their third with seconds left on the clock but it was too late as AGMK held on to win 5-3.
Photos: AFC