Appointment for the 20th round of the women's major league.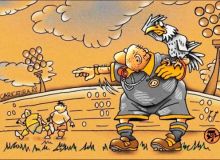 Judges, inspectors, commissars.
Teams of referees, as well as inspectors and commissioners for the matches of the 20th round of the women's major league have been announced on the PFL Uz website. The tour will take place the day after tomorrow, on Sunday, October 24, all four matches will start at the same time. It is noteworthy that three of them will be held in parallel in the capital: these are the costs of the calendar - read, the work of PFL Uz.
In this round, Sevinch and Kyzylkum-W are resting in the top and bottom five, respectively.
---
October 24:
SOGDIANA-W - METALLURG-W
Judges: Jaloliddin Khusnuddinov, Kristina Sereda, Mohirabonu Muralieva.
Inspector: Iskhak Ibragimov.
Commissioner: Ravshan Mavlyanov.
BUNYODKOR-W - AGMK-W
Judges: Khusnora Dzhumaeva, Zilola Rakhmatova, Marjon Rakhmatkulova.
Inspector: Erkin Aripov.
Commissioner: Shahrukh Said.
"PAKHTAKOR-W" - "NAVBAKHOR-W"
Judges: Shakhrukh Kayumov, Alexandra Konchikova, Daria Snetkova.
Inspector: Khushvakt Mukhtarov.
Commissioner: Julia Panina.
LOKOMOTIV-W - NURAFSHON-W
Judges: Doston Rakhmanov, Gulshoda Saidkulova, Lailo Jalolova.
Inspector: Nabijon Ruzimov.
Commissioner: Nigora Abidova.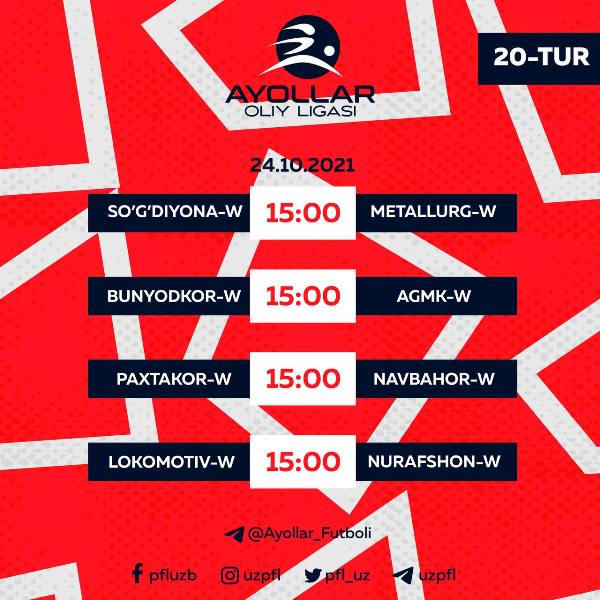 Матнда хатолик топсангиз, ўша хатони белгилаб, бизга жўнатинг (Ctrl + Enter)