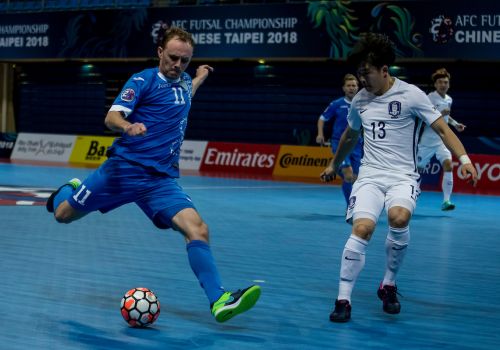 Artur Yunusov: We need to improve if we want to reach the final
Mistakes and lack of concentration must be rectified to reach tournament climax, says Uzbekistan captain Artur Yunusov.
Two years ago, Uzbekistan's second place finish at the AFC Futsal Championship was seen as a great achievement for the nation's futsal development.
But, after a disappointing 4-2 defeat on Monday to Japan in the 2018 edition, their skipper is concerned that recent errors creeping into their play could prevent them from a repeat visit to the competition showpiece.
After opening the scoring against the Samurai Blue via Farkhod Abdumavlyanov in the third minute, the White Wolves defended their lead up to the half-time break.
Cracks in their backline showed after the interval, however, as they conceded four times.
"We tried our best, but we made mistakes and got punished," admitted Yunusov, who did briefly restore parity in the second half with his goal to make it 2-2.
"We actually studied Japan's free-kicks ahead of the game, but we lost concentration, defended poorly and conceded two goals from set-pieces in just three minutes."
The loss to the East Asians saw Yunusov and his teammates finish as runners-up in Group B and set to face Vietnam, reprising the clash of last month's AFC U23 Championship final.
"We're going to train hard for the quarter-finals and do our best," added Yunusov.
"We'll analyse the opponents, watch the videos, and look for any weaknesses. Our main goal remains to reach the final, that's our target. We'll try to do our best and improve match by match, which we'll need to do.
"It looks like that if we can win our quarter-final we could face Islamic Republic of Iran in the semi-finals, so we'll certainly have to concentrate and play better."
Source: AFC
Like official page of SPORTS.uz on Facebook