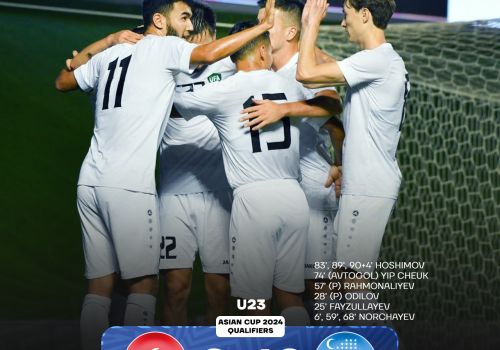 Asian Under-23 Cup qualification. The Olympic team of Uzbekistan won by scoring 10 unanswered goals against Hong Kong!
As part of the 2nd round of the Asian Cup qualifying round among under-23 players, the Hong Kong - Uzbekistan match took place. In it, our representatives won a major victory with a score of 9:0.
As part of our compatriots, goals were scored by Norchaev (hat-trick), Fayzullaev, Odilov (penalty), rakhmonaliev (penalty), Man IP cheuk (autogall) and Hoshimov (double).
Thus, our Olympians were again in 1st place in the standings due to an amazing victory. The next match of the 3rd round will take place on September 12 at 19:00 against Eronterma.
Follow SPORTS.uz on Instagram