Azat Usenaliev: "Shakhobiddin Zoirov is one of the favorites to win the Tokyo Olympics"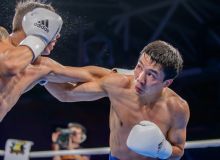 Interview with a boxer from Kyrgyzstan.
It is no exaggeration to say that Azat Usenaliev, a multiple champion of Kyrgyzstan, has been participating in various tournaments for many years in the weight category of 52 kg. We have repeatedly witnessed the fights of him against Jasurbek Latipov and Shahobiddin Zoirov.
We interviewed this boxer, who has unique skills, and asked him a few questions. Below, we bring this conversation to your attention.
- Azat is well known to Uzbek boxing fans. Because you have repeatedly fought with Uzbek boxers in the ring. But I can't say we have complete information?
- I was born on September 11, 1991 in the city of Tokmak. In 2009 I took part in the championship of Kyrgyzstan for the first time. Since then, I have won the championship many times. I have been a winner and prize-winner of international tournaments several times.
- How many times have you fought with Uzbek boxers? Do you know them as an awkward opponent?
- I came across a lot of them in the ring. Among them, I fought the most famous Shahobiddin Zoirov five times (3:2 in favor of Zoirov) and Jasurbek Latipov three times (2:1 in favor of Latipov). There are others, but their names are forgotten. Uzbek boxers are strong both technically and tactically. They are an uncomfortable opponent for any boxer.
- By the way, what is the issue of licensing for the Tokyo Olympics?
- I haven't won a ticket yet. But there will be another licensing tournament in April, and I hope to win one.
- Do you think that the national team of Uzbekistan will be the first in Tokyo?
- Of course, today boxing in Uzbekistan has reached a very high level. We also saw this at the last Olympics and World Championships. I think he can be a leader in Tokyo as well.
- Who do you consider to be the favorites of the Tokyo Olympics in your weight category of 52 kg?
- I can mention Shakhobiddin Zoirov and Amit Panghal from India.
- Which Uzbek boxers and coaches do you have friendly relations with?
- I know many of them. In particular, I have good relations with Hasanboy Dusmatov, Shakhobbiddin Zoirov and Jasurbek Latipov, coaches Ziyoyiddin Tayganbaev.
- Now in Osh, Kyrgyzstan, Ziyoyiddin Tayganbaev's brother, Kuvonch Tayganbaev, who was once a great boxer, also works as a coach. Do you know him too?
- Of course, I know him not only as a great coach, but also as a good person. But as I mentioned above, I live in Tokmok. We see little for the distance between them.
- What can you say about the development of boxing in Kyrgyzstan?
- It is currently under development. A lot of talented young people are emerging. I think soon they will also record good results.
- Thank you for the free answers. We wish you a ticket to the Olympics!
- Glad to talk to you!
Матнда хатолик топсангиз, ўша хатони белгилаб, бизга жўнатинг (Ctrl + Enter)