Bakhodir Jalolov overwhelms Australia's Justis Huni to pick up the third gold medal for Uzbekistan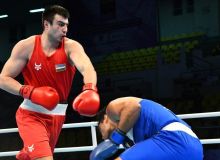 Uzbekistan's defending AIBA World Champion Bakhodir Jalolov was the main favourite at the super heavyweight (+91kg) in Amman.
Jalolov had to do his very best to beat Bahrain's No.1 Denys Latypov and Indian Satish Kumar in his victorious way to the final contest at the Prince Hamza Hall on Wednesday.
The 25-year-old Uzbek faced Australia's AIBA World Boxing Championships bronze medallist Justis Huni in the final bout as he used his best weapons and unpredictable footwork to beat his rival to claim the third medal for Uzbekistan.
Found mistake? Select it and send us (Ctrl + Enter)