Bakhodir Jalolov puts Kamshybek Kunkabayev over Ivan Dychko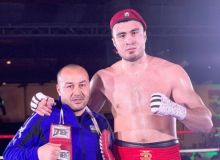 Currently, AIBA World Championship gold medalist Bakhodir Jalolov continues his training in the United States. He has already been qualified to the Tokyo Olympics. Of course, he is looking for a top runner in Tokyo, as he has already won World amateur boxing championships. Fans have high hopes for him ...
We contacted and asked him a few questions about the Olympics.
- We can say that your work in professional boxing has helped you to grow. But isn't the training and preparation for the fight by professional boxing coaches in the run-up to the Olympics a negative impact?
- No. On the contrary, professional boxing helps me in my amateur activities. Because sparring fights in this direction will be at least 6-7 rounds. It is known that there are 3 rounds in amateur boxing. In the middle of these 6-7 rounds, I'm trying to work as fast as in amateur boxing. I think it should pay off in the Olympics. We hope so.
- Where do you plan to hold the final stage of preparation for the Olympics?
- If the final stage of preparation is successful, it will be in Uzbekistan. Because before the Olympics, I have to watch amateur fights.
- Tell us about the most serious rivals you may face in Tokyo?
- I can't say one thing about it. All my opponents say they will win in the ring. In fact, I see it all as a serious competitor. Relatively speaking, at the World Championships, together with boxers from Australia, Russia and Kazakhstan, we took the top spot on the podium. I can tell you that. I would have mentioned both the French and the German. In general, in Europe, there have always been strong boxers in the heavyweight division.
- At one time you came across Ivan Dychko from Kazakhstan. Also with Kamshybek Kunkabayev ... Tell me, which of them was stronger and more awkward?
- When I met Ivan Dychko, my experience was not so good. I can say that both are strong opponents. However, as I mentioned above, I lost to Ivan Dychko because of my lack of experience. At that time, my weight was too low. However, I can say that Kamshybek Kunkabayev is a faster boxer than Dychko.
- Do you fully focus on professional boxing after the Tokyo Olympics?
- God willing! I will have been working in professional boxing after the Olympics.
- Fans are just waiting for a gold medal from you and you have a lot of confidence ... What can you say to them about this?
- First of all, it is necessary to say Allah. In 2016, we were defeated. I try not to repeat this mistake. I just want to get out of the ring as a winner. I would like to thank all our fans for their support. I hope I won the gold medal, if I'm lucky!
Матнда хатолик топсангиз, ўша хатони белгилаб, бизга жўнатинг (Ctrl + Enter)