Bakhtiyor Ashurmatov: "I think none of the team will be happy with a draw on their own field"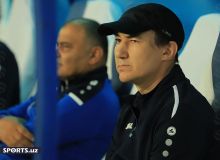 Impressions of the Kokand master after the game.
In the second part of the press conference after the match of the 25th round of the Coca Cola Super League "Kokand - 1912" - AGMK (2:2) was attended by the mentor of the hosts Bakhtiyor Ashurmatov.
- Today we held the last meeting on our field this season. It was one of the most exciting matches of the season. Today, both we and our opponent could have won. This convinced me that Kokand fans love football very much and understand it well. Today they expected us to win the match on their own field. But our fans applauded them for the fact that the guys fought to the end, despite the fact that we were losing, for the fact that we had a draw. This year we were not able to please our fans in some matches. I hope that next year we will definitely please them with good results.
We spent the first 15 minutes of today's competition very freely. The opponent took advantage of this and opened an account. Later, my students fully followed my instructions. The season has not been easy for us. Suffered losses in the composition. We cannot use Oybek Rustamov in the match in Namangan. The number of his cards has reached four. Nevertheless, we will try to finish the season with a good result.
Both teams needed a win today. Therefore, the fight went on until the last minute. The players also really wanted to get three points in the last match on our field. Finishing the season in a good mood would lay the foundation for starting next year's championship in a good mood. In my opinion, no team should be happy with a draw on their own field. But we were able to break out of defeat, which made me happy. Today's draw has kept the intrigue in the championship. Now, there must be an intense struggle for the silver medal.
Press service"Kokand-1912".
Матнда хатолик топсангиз, ўша хатони белгилаб, бизга жўнатинг (Ctrl + Enter)