"Batyr would beat Ergashev." Jukembaev's coach explained the situation in potensial fight with Shohjahon Ergashev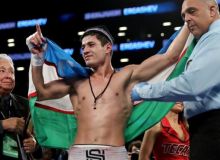 The fight could have taken place in the United States.
The fight between Batyr Jukembaev (18-0.14 KOs) against the Uzbek boxer Shohjahon Ergashev (18-0, 16 KOs), which could have taken place in the United States until it is organized. But the reason is not at all the refusal of the undefeated Kazakhstani, which was previously reported by the head of the Canadian promotional company Eye of the Tiger Management Camille Estefan.
Jukembaev's personal trainer Andrei Ivichuk , better known as Bupas, in an interview with Vesti.kz, revealed the other side of this situation, expressing confidence in his fighter's victory.
- Andrei, tell us how did these events actually develop regarding the fight between Jukembaev and Ergashev?
- Hello! In fact, when we were offered this fight, we were delighted. Because this gives Batyr a good opportunity to rise in the rankings and get closer to the championship titles.
Another situation was with US visas. We both do not have visas. I called my acquaintances at the embassy, ​​and we were told that now in Russia nowhere in any city do they issue American visas. It takes enough time to get work for them.
I am a citizen of Belarus, and for this I need to go to my country. And there is now a difficult situation. Batyr will also have to interrupt his training process and go to Kazakhstan. The situation, both in terms of time and other factors, does not work out in our favor.
We were offered to fight on November 19 in the USA. Ergashev is not an easy opponent, and this fight requires good preparation. And to hurry up when even Russia's borders are closed would be an unjustified risk for us.
- In the last fight, did the planned rival Jukembaev also have problems with a visa and another Ricardo entered the ring?
-Yes, the Argentinean Ricardo Veron could not enter the territory of Canada, and the Mexican Ricardo Lara was chosen as an opponent with 22 victories. Here is another interesting situation - Shohjahon Ergashev would have a fight in Moscow at that time.
- How logical is it to discuss a new fight when you have a fight with another boxer on your nose?
- I'm a thousand percent sure that Ergashev was not even aware of the fight with Jukembaev! Because Camille Estefan was the first to offer it to us. Everything was under discussion. Only after Batyr's consent would they begin negotiations with the Uzbek side. Batyr did not refuse to fight. He voiced to his promoter the whole situation with the visa and with the tight deadlines.
- It turns out that Kamil Estefan, when he said in his interview that Batyr refused, did not reveal the full picture?
-I have been working with promoters for a long time and have a lot of experience. When a boxer does not agree with the proposed terms, they are offended. I think that the language barrier also contributed to this misunderstanding. Batyr communicated with Kamil directly, without an interpreter, and it must be borne in mind that he is not fluent in English and French.
Both were emotional, I guess, and the situation escalated a little. I hope that everything will cool down and they will come to a mutual decision. Batyr spent his entire career in Canada and achieved a lot.
Eye Of The Tiger Management knows the value of its boxers. Kamil Estefan promised big battles for Batyr. This year in May, Batyr was supposed to fight in the United States in the Golden Boy event, but the pandemic disrupted these plans. Now, after a long seven-month pause, Jukembaev needs a good "tune up" fight.
- Kamil Estefan said that even coach Andrei Bupas persuaded Batyr for three days, in the end he refused.
- Batyr did not refuse to fight, he asked him to postpone it at the end of the year and give him an tune up battle now. Also consider all this incomprehensible situation with a visa and tight deadlines.
- Your personal assessment of Ergashev as a coach. What kind of boxer is he?
-He has good punching power, hits hard with both hands. He goes on the attack, and this is what he takes. Plus, Ergashev has not yet had any serious opponents in his career who could oppose him with something. All opponents went against him with the fear that he was such a knockout.
- You worked with Ergashev before, and now you are training Jukembaev. Your personal opinion - what would be the result of this fight?
-I am a hundred percent sure that Batyr would have defeated Shohjahon. Batyr is a more versatile and smarter boxer. He is very disciplined, listens to everything attentively and fulfills the fighy plan well. I really want this fight to take place in the near future, because I know how to deal with Ergashev for each round and build a battle plan.
- When do you think the fight between Jukembaev and Ergashev can be organized?
- I think, for a start, Batyr needs to pass a good test with an easier opponent. Only after that it will be reasonable to talk about this fight!
Even if not in the USA, the fight between these two boxers can be held here, in the CIS, in December. Both athletes have tremendous support from their countries. I think this confrontation should be a title fight, for which the promoters also need to try hard.
Found mistake? Select it and send us (Ctrl + Enter)