Beijing KRS-BSU claim a 3-2 comeback win over HC Humo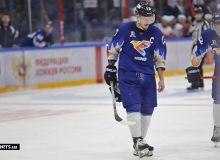 HC Humo received a 3-2 defeat from Beijing KRS-BSU hockey team of China in their Supreme Hockey League match at the Humo Arena on Saturday.
Uzbek side started the game with a confident and dominated the rivals from the first minutes but they opened the scoring through Pavel Sinyavskiy in the 19th minute.
Chinese team managed to cancelled out the lead as Andrey Maksimov put the sides in lever term 9 minutes into the second period. However, Sergey Ilin returned the advantage to HC Humo from a long-range shot.
In the last 5 minutes of the match, KRS-BSU Beijing escaped from a defeat and earned a 3-2 victory come back from behind, while Mikhail Plotnikov and Chen Mike gave the lead to Beijing side for the first time.
Humo

VHL Matchday 1

17/11/2019, 17:00

Finished

Beijing