Boxing. New stars shined at the Uzbekistan national boxing championships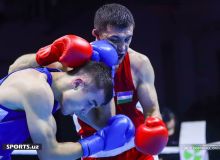 All the battles came to the end.
Uzbekistan Elite men's and women's national boxing championship was held at the Universal Sports Palace. Yesterday, the final fights among women and men in this tournament ended, and the winners and prize-winners were determined.
Meet the winners and prize-winners of the 2021 Uzbekistan Boxing Championship!
-48 kg
Asilbek Jalilov - champion
Shodiyorjon Melikuziev - silver
Omaddiyor Kadyrov - bronze
Sohibjon Sodiqjonov - bronze
-51 kg
Mironshokh Ibragimov - champion
Khojanazar Nortojiev - silver
Qodirbek Akhtamov - bronze
Muhammadqodir Mamurjonov - bronze
-54kg
Dilshod Abduvaliev - champion
Shahzod Muzaffarov - silver
Sodirbek Kamolmirzaev - bronze
Oybek Juraev - bronze
-57 kg
Shunqor Abdurasulov - champion
Hasanboy Latiboxunov - silver
Mirzabek Mirzakhalilov - bronze
Dilshod Abdumurodov - bronze
-60 kg
Khurshidbek Rasuljonov - champion
Faryozbek Hakimov - silver
Saidoxunov Mirkomil - bronze
Atxam Muxiddinov - bronze
-63.5 kg
Ruslan Abdullaev - champion
Mujibullo Tursunov - silver
Sulaymon Latipov - bronze
Shoxruxbek Kenjaev - bronze
-67 kg
Javlon Yuldashev - champion
Jakhongir Rakhmonov - silver
Bilolbek Mirzarahimov - bronze
Saidov Timur - bronze
-71 kg
Azizbek Tojiev - champion
Bobousmon Boturov - silver
Alokhon Abdullaev - bronze
Halimbek Utegenov - bronze
-75 kg
Saidjamshid Jafarov - champion
Abdulaziz Abdupattoev - silver
Suhrobjon Qayumov - bronze
Login Petrov - bronze
-80kg
Odiljon Aslonov - champion
Dilshodbek Ruzmetov - silver
Jasur Yuldashev - bronze
Islam Muminov - bronze
-86 kg
Timur Mirjanov - champion
Jurabek Toshtemirov - silver
Pirimberdiev Nodirbek - bronze
Shakhod Mauzerov - bronze
-92
Jamshid Abdullaev - champion
Javokhir Togaimurodov - silver
Diyorbek Urolov - bronze
Abdulla Khudarganov - bronze
+92
Jakhongir Zokirov - champion
Jamshid Khudoiberganov - silver
Shahzod Sulaymonov - bronze
Shohjahon Abdullaev - bronze
Матнда хатолик топсангиз, ўша хатони белгилаб, бизга жўнатинг (Ctrl + Enter)