BUNYODKOR-W is in Jordan at the Asian Club Championship.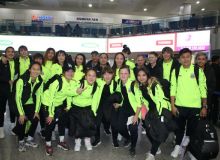 The composition of the delegation and the calendar of the games.
Let's break away from the all-consuming theme of calendars at the beginning of each month for a while (!).
Although there is a calendar in this material, but it is not internal, but international. Eventful and the first such in the history of our football. For the first time, our women's club participates in the continental club championship, an analogue of the AFC men's LCH. The departure from here was at 03:40, and closer to 14:00 (our time), the team was in Amman, the capital of Jordan.
The composition of the delegation of the Housing and communal Complex "Bunyodkor-W".
Guide.
Shomurad Israilov is the head of the delegation.
Islam Khodjaev is the team manager.
Sahib Egamov - Press Secretary.
Elmira Gulamova is the head coach.
Vladimir Panov is a coach.
Oleg Kakharov is a goalkeeping coach.
Shakhnoza Makhmudova is a massage therapist.
Natalia Aladzhieva is an administrator.
Rustam Yusupov is a doctor.
FOOTBALL PLAYERS (by game numbers).
Goalkeepers:
1. Olga Kakharova
12. Ziyoda Irisbayeva
23. Zarina Saidova
Defenders:
4. Ziyoda Isakova
5. Kamola Riskieva
8. Luisa Sadirova
14. Marina Kosnikova
17. Dilrabo Asadova
18. Yulduz Nabieva
20. Bakhtygul Toktobolotova
24. Zukhra Berdyeva
Midfielders:
6. Aizhan Boronbekova
9. Dildora Nazimova
10. Saida Galimova
11. Gulchehra Eshmamatova
15. Umida Zoirova
21. Sogdiana Allamuradova
27. Ilvina Ablyakimova
Attackers:
7. Lyudmila Karachik
13. Polina Mikhanko
22. Aziza Norbaeva
19. Nazima Ergasheva
25. Alina Almatova
***
Calendar of games. Jordan, Aqaba.
Round 1. November 7.
18:00. "Bunyodkor-W" (Uzbekistan) — "Shahrdari Sirzhan" (Iran)
21:00. "Gokulam Kerala" (India) — "Amman" (Jordan)
---
Round 2. November 10.
18:00. "Shahrdari Sirjan"— "Gokulam Kerala"
21:00. "Amman"— "Bunyodkor-W"
---
Round 3. November 13.
8:00. "Bunyodkor-W— - "Gokulam Kerala"
21:00. "Amman" — "Shahrdari Sirzhan"
* - the start time of the matches is Tashkent.
Матнда хатолик топсангиз, ўша хатони белгилаб, бизга жўнатинг (Ctrl + Enter)