Chinese Ma Ning to officiate FC Lokomotiv vs Al Rayyan in Tashkent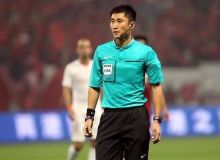 Bottom-placed Al Rayyan travel to Tashkent to face a Lokomotiv side that sit one place and one point above them in the group table.
Chinese Ma Ning will officiate ACL Matchday Six clash between FC Lokomotiv and Al Rayyan in Tashkent, reports club's media department.
His compatriots Sao Yi and Shi Xiang will assist Ma Ning during the match will take place at the Lokomotiv Stadium next Tuesday.
Found mistake? Select it and send us (Ctrl + Enter)