Denis Istomin withdrawn from French Open following the positive result to coronavirus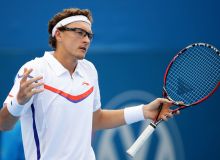 Having been pushed back four months to September to escape the worst of the coronavirus, the French Open gets underway on Sunday still struggling to loosen the grip of the deadly pandemic.
However, Uzbekistan's Denis Istomin was tested positive, forced to hospital and pulled out from the tournament.
On Sunday night, the French Tennis Federation said that five players due to take part in men's qualifying had been stood down.
Two had tested positive while three others had been in contact with a coach who had also returned a positive test.
The other players were named in Spanish media reports as Ernesto Escobedo of the United States, Bosnian Damir Dzumhur, Bernabe Zapata Miralles of Spain and Serbia's Pedja Krstin.
Found mistake? Select it and send us (Ctrl + Enter)