Deputy PM Aziz Abdukhakimov meet with Atletico Madrid officials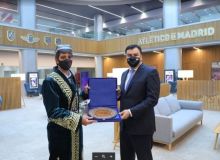 Atletico Madrid announced that in the near future they will send a commercial offer to the Uzbek side
During a working trip to Madrid, the Uzbek delegation headed by Deputy Prime Minister, Chairman of the State committee for tourism development Aziz Abdukhakimov met with the leadership of the football club Atletico Madrid and held talks on cooperation.
The delegation informed the Spanish side about the announcement by the President of Uzbekistan of 2021 as the Year of Support for Youth and Public Health, about the projects being implemented in the country to attract the population to sports and football as one of the strategic sports. Representatives of Atletico Madrid spoke in detail about the activities of academies opened abroad, about marketing opportunities to promote the tourism potential of Uzbekistan among football fans around the world.
Inigo Aznar, vice president of Atletico Madrid, said the partnership would bring great results and expressed confidence that young people from countries with great history would develop athletes who would represent the country to the world. At the end of the meeting, representatives of Atletico Madrid proposed to create a football academy in Uzbekistan and cooperate in promoting the tourism potential of our country, based on the capabilities of the club.
The management of Atletico Madrid announced that in the near future they will send a commercial offer to the Uzbek side, and if the parties come to an agreement, representatives of the club will visit Uzbekistan. For information: Atletico Madrid is a professional football club from Madrid that plays in the Spanish La Liga (Premier League) and is one of the European grandmasters. The club will play their home games at the 68,456-seat Wanda Metropolitano stadium. Atletico Madrid, one of the most renowned clubs in the world, has over one hundred million social media followers.
Матнда хатолик топсангиз, ўша хатони белгилаб, бизга жўнатинг (Ctrl + Enter)