Elnur Abduraimov beats Kazakhstan's Zakir Safiullin to earn the gold for Uzbekistan in Amman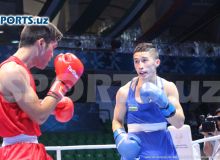 Uzbekistan's Elnur Abduraimov faced Kazakhstan's Zakir Safiullin for the gold at the Asian & Oceanian Olympic Boxing Qualifying Event.
The 26-year-old Uzbek boxer has been competing in the international stage since 2011 and after all those experiences his hard work paid off in Amman.
Abduraimov eliminated Australia's Harry Garside in the quarter-finals and continued his winning path against Mongolia's first quota holder Chinzorig Baatarsukh before he met with Kazakhstan's Zakir Safiullin in the final contest.
Abduraimov was tactically better and felt the tempo and well-prepared against her Kazakh rival as he earned the second gola medal for Uzbekistan in Amman.
Found mistake? Select it and send us (Ctrl + Enter)