Elnur Abduraimov: We have big plans ahead. I want to be an Olympic champion…. Interview with father-and-son boxer Abduraimovs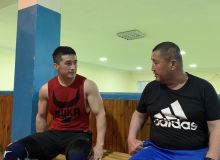 Today we are presenting the interview about father and son athletes. To say, Nurgali Abduraimov, a great boxer at the time, a six-time champion of Uzbekistan in the weight category of 57 kg, one of the winners of prestigious tournaments in Yugoslavia, Czechoslovakia and Afghanistan, and his son now a member of the national boxing team of Uzbekistan, Asian champion, AIBA world championship bronze medalist Elnur Abduraimov.
Born on February 3, 1969 in Bostanlyk district of Tashkent region, Nurgali Abduraimov has been boxing since the age of 12. The coach was Jalkhar Usenov. During his career, as mentioned above, he has repeatedly become a champion of Uzbekistan and a winner of international tournaments. At the time, he was involved in the training of the former Soviet Union national team. He also had 5 fights in professional boxing, including 3 wins and 2 losses. He is currently working as a coach.
We approached Nurgali with a couple of general questions about Elnur. He shared his thoughts as follows.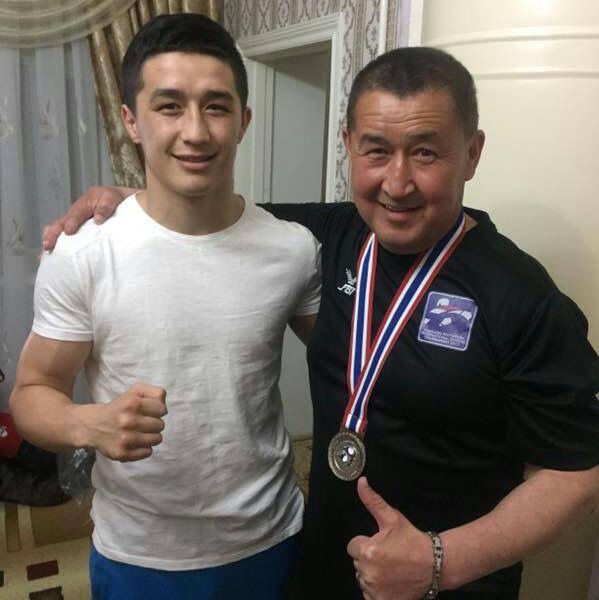 - Was it your decision for Elnur to become a boxer to follow your footstep ?
-You know, I didn't ask my son to be a boxer. He was curious and chose this sport. Initially, he went to karate. He later came to me and started boxing.
- Usually, coaches are psychologists. Have you also watched your child's first training session and felt that he could be a good boxer in the future?
- When I first started working with Elnur, I felt that he had the potential, and suddenly I tried him in the district competition. Look, justifying the trust, he was a champion. Thankfully, good results are being achieved right now. Of course, I would have asked the God to make this continue.
- He can be a worthy child for his father ... I mean, are you satisfied with his results?
- Of course, I would be lying if I said that I am not satisfied with his work. He became the bronze medalist of the World Championship, the winner and medalist of the Asian Championship, the champion of Uzbekistan. Here is the champion of the Olympic licensing tournament. We hope that he will show a positive result in the Olympics too.
- Probably, the coaches of the national team also contributed to your son's success in high sports?
- Of course, I can't express their work in words. Under the leadership of Marat Kurbanov, Tulkin Kilichev, Rahmatjon Ruziokhunov and other coaches raised him to a higher level. In return, I would like to express my deep gratitude to them.
Here we finished the conversation with Nurgali and we interviewed Elnur. Of course, if we were interested in the father's opinion about his son, it is obvious that we asked the son about his father ...
- Elnur, we heard that your father didn't want you to be a boxer. Was it true?
- Yes, sometimes when I followed him into the boxing hall, he wanted me to leave. But the interest was strong and I was able to convince myself that I could be a good boxer.
- How did the interest arise? That is, because your father was a boxer and was working as a coach in this sport at the time?
- In a sense, I can say that this was the main factor. In particular, the 2006 Asian Games were held in Doha, where Rustam Saidov, Bakhodir Sultanov and Elshod Rasulov became champions. I envied them and decided became a boxer like Elshod Rasulov.
-If I'm not mistaken, Konstantine Tszyu was your idol. Have you ever had your hair look like his too?
- Yes, I was trying to be like Tszyu. Later, I decided to become Elnur Abduraimov.
- Let's not get distracted, we intend to talk to you about your father ... Being the son of a good athlete is a great responsibility. More specifically, there are also criticisms that you don't look like your father in the term of sport?
- Yes, I often hear such rumors. Those who have seen my father's fight, including national team coach Marat Galievich, say, "Your father was a real faster and his technique was better." I will be very happy with that. I am always proud to be the child of such a person.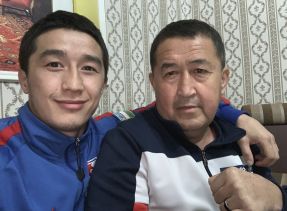 - Do you probably hear a lot of admire from the fans being a good boxer like your father?
- They say the same thing. Of course, as I mentioned above, I feel a sense of pride.
- Is it difficult to train under your father?
- There are both advantages and disadvantages.
- I meant harsh and demanding towards you in training?
- He was among all his disciples. He was equally demanding of all.
- Do you think you became the boxer your father wanted?
- We have big plans ahead. With the support of the God himself, I want to be an Olympic champion and make everyone happy. Together with my father, I try to achieve the goals we have set for ourselves.
Found mistake? Select it and send us (Ctrl + Enter)