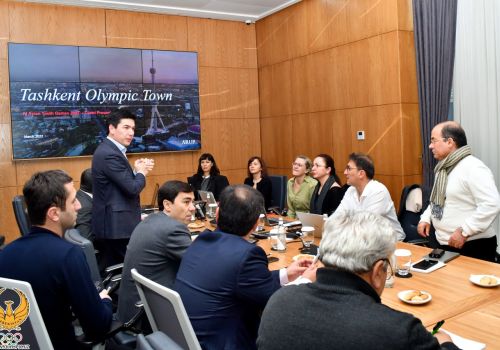 Experts discussed the construction of sports complexes "Tashkent-2025"
As you know, in 2025 the capital will host the IV Asian Youth Games. In the address of the head of state addressed to the Oliy Majlis and the "Youth Forum" held in December 2020, it was particularly noted that these continental launches were held at the proper level in Tashkent. In addition, the relevant Organizations have been instructed to adequately prepare for them.
A meeting was held today on the execution of these instructions, existing problems, as well as finding ways to solve them. The event was attended by Deputy Minister of Sports Development Shakhrillo Mahmudov, Secretary General of the NOC Oybek Kasimov, Chairman of the National Paralympic Committee Mukhtorkhon Tashkhodjaev, Deputy Chairman of the NOC Sherzod Tashmatov, responsible persons of Federations and Associations.
It is planned to build a new Olympic Village with the possibility of holding competitions in 20 sports in the Kibrai district for the Asian Youth Games.
A branch of the London (UK) company "ARUP" presented its project for the construction of a modern Olympic town and sports facilities on 100 hectares of land located on the street "New Uzbekistan" of the Kibrai district of the Tashkent region.
Currently, with the support of the Tashkent city Khokimiyat, work is underway on a project presented by ARUP specialists. According to their plan, the construction will take place in 2 stages. At the first stage - the construction of a universal swimming pool, a cycling track sports complexes, a badminton palace, a complex specializing in team sports, an athletics stadium, a universal indoor facility, a rowing canal. The second stage of construction includes dormitories, an indoor athletics building, a martial arts arena, an open field for field hockey. In total, 30 sports are planned to be included in the program of the Asian Youth Games "Tashkent-2025".
During the meeting, suggestions were made that the members of the Organizing Committee "Tashkent-2025" go with the delegation of our country to the III Asian Youth Games, which will be held this year in the Chinese city of Shantou. One of the main goals of this is to gain new experience and knowledge in the field of Organizing upcoming starts in the capital. In addition, one of the most important tasks is to attract leading specialists for more thorough preparation of young athletes for important Youth competitions of the fourth anniversary. There was also an exchange of views on the organization of the activities of the Directorate of Competitions in the shortest possible time, the approval of the estimated documentation of projects, the start of construction of sports facilities.
Follow SPORTS.uz on Instagram