FC AGMK advance to Uzbekistan League Cup final beating FC Dinamo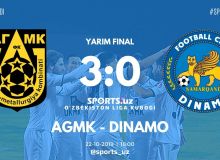 FC AGMK will face FC Pakhtakor for the third time in a row in the final match as they will struggle with FC Pakhtakor for the Uzbekistan League Cup title.
After a defeat to FC AGMK in last year's Uzbekistan Cup final, FC Pakhtakor will have two final matches to try to get revenge.
Goals from Jasur Umarov and Jasur Hakimov claimed a 3-0 win over FC Dinamo, while they secured a place for Mirjalol Qosimov's lads in the Uzbekistan League Cup final.
AGMK

Jasur Hakimov

6'

Jasurbek Umarov

83', 85'

League Cup Matchday 22

22/10/2019 18:00

Finished

Dinamo