FC AGMK beat FC Lokomotiv to earn Uzbekistan Futsal Super Cup title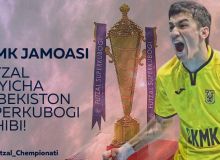 FC AGMK competed with FC Lokomotiv in the Uzbekistan Futsal Super Cup in Almalyk on Tuesday.
Husniddin Nishonov opened the scoring for Almalyk side 7 minutes into the first period before Davron Choriev added the second in the 9th minute of the game.
A 34-minute strike from Mirzohid Khaydarkhujaev halved the deficit for FC Lokomotiv, but the score remained unchanged in the full time as FC AGMK lifted the trophy.
2020 Uzbekistan Futsal Super Cup
FC AGMK 2-1 FC Lokomotiv
Goals: Husniddin Nishonov 7', Davron Choriev 9' - Mirzohid Khaydarkhujaev 34'
Found mistake? Select it and send us (Ctrl + Enter)