FC Bukhara register a 3-0 win over FC Dinamo in Samarkand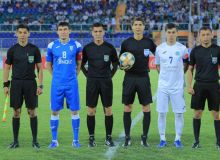 FC Bukhara claimed a 3-0 win over FC Dinamo in their Uzbekistan Super League match at the Dinamo Stadium on Tuesday.
Andrey Sidirov broke the deadlock after a 69-minute goalless draw as he put the visitors in front. Just 2 minutes later, Salamat Kutibaev doubled the lead for Bukahar side.
In the 73rd minute, Sardor Sulaymonov added the third, while FC Bukhara registered a 3-0 win over Samarkand side.
Dinamo

Superleague Matchday 18

27/08/2019 17:00

Finished

Bukhara

Andrey Sidorov

69'

Salamat Qutibaev

71'

Sardor Sulaymonov

73'

Stadium: Dynamo stadium

Referee: Akobirkhuja Shukrullaev