FC Bunyodkor gain a 4-2 win over FC Dinamo in Tashkent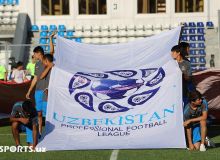 FC Bunyodkor resumed their Uzbekistan Super League campaign with a 4-2 win over FC Dinamo in the Matchday Fourteen of the league on Saturday.
The Swallows took the lead through Mirjahon Mirakhmedov in the 22nd minute of the game at the Railway Institute Stadium.
In the 40th minute, Akmal Kholmurodov scored an own goal into his own net before his teammate Ikhtiyor Toshpulatov halved the deficit in 3 minutes.
However, FC Bunyodkor went to the break with a 3-goal advantage as Khurshid Giyosov netted the ball in the first period stoppage time. After the restart, Mirjahon Mirakhmedov and Ikhtiyor Toshpulatov made their doubles.
Bunyodkor

Mirjaxon Mirahmadov

26', 56'

Xurshid G'iyosov

40', 45+1'

Superleague Matchday 14

27/07/2019 18:00

Finished

Dinamo

Ihtiyor Toshpo'latov

43', 75'

Stadium: TTYMI stadium, 1130 spectators

Referee: Firdavs Norsafarov