FC Bunyodkor junior teams to take part in Navruz Cup in Almaty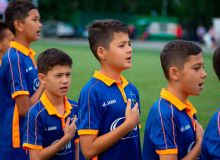 FC Bunyodkor junior football teams will participate in the international football tournament 'Navruz Cup' in Almaty, Kazakhstan.
Under the coaching of Aleksandr Hvostunov, Ravil Bikchintaev and Vladimir Panov, FC Bunyodkor U-12 will take part in the tournament with two teams.
FC Bunyodkor U-10 will start their participation in the competition under the coaching of Alisher Ibrohimov on Saturday.