 FC Kizilkum secured a victory over FC Navbahor in Matchday Second of Uzbek League
FC Navbahor failed to gain a victory over FC Kizilkum in the second matchday of 2017 Uzbekistan Oliy League. Namangan-based team visit Jizzakh region to struggle with FC Metallourg.
Azamat Allaniyazov broke the deadlock with so early goal six minutes after kick-off. But a new signing of the visitors Mansur Saidov equalized the score twenty minutes later. However, Jizzakh side took the lead after Ilhom Yunusov scored the winning goal of the match today.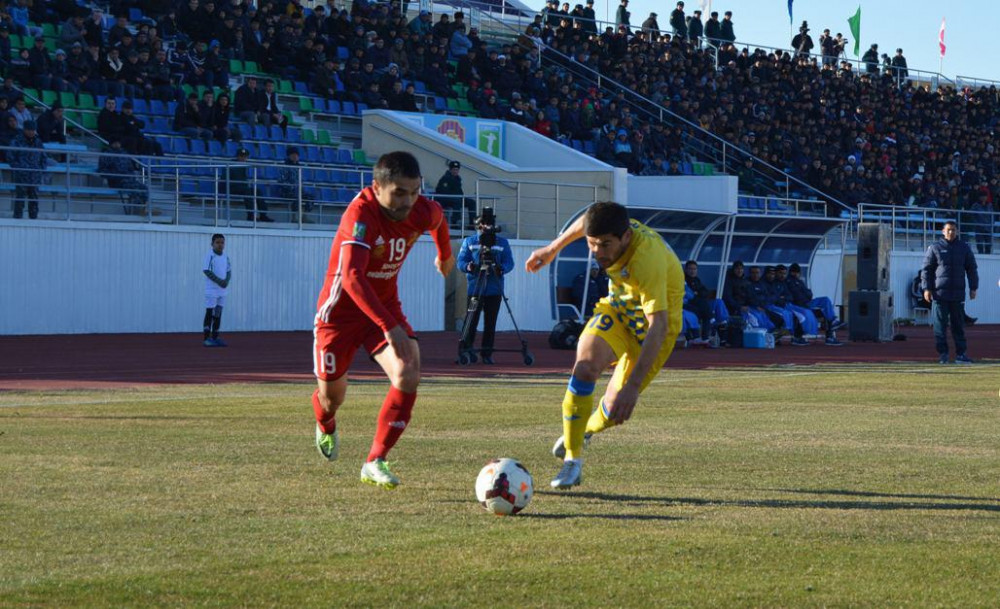 FC Kizilkum 2:1 Navbahor
Goals: Azamat Allaniyozov 6', Ilhom Yunusov 76' - Mansur Saidov 26'
FC Kizilkum: 16. Umid Xonimkulov, 3. Shukurali Pulatov, 4. Erkin Boydullaev (S), 10. Vohid Shodiev, 14. Fayzullo Kambarov, 15.Azamat Allaniyozov (Begzod Ganijonov 90'), 17. Artur Gevorkyan, 19. Jasur Hasanov (Otabek Zokirov 90+1), 23. Sherali Juraev, 25. Azizbek Usmonov, 27. Ilhom Yunusov.
Substitutions: 22. Artyom Makosin, 7. Viktor Grigorev, 8. Akmal Rustamov, 9. Otabek Zokirov, 18. Samandar Shodmonov, 35. Orzu Razzakov, 77. Begzod Ganijonov.
FC Navbahor: 30. Asilbek Amanov, 2. Alisher Samatov (Azizbek Turgunboev 81'), 5. Giyos Komilov, 7. Oybek Kilichev (Tohir Shamshitdinov 87'), 9. Dilshod Jabborov (S), 10. Mansur Saidov (Ruzim Ahmedov 75), 19. Mirzohid Gofurov, 21. A'zam Aliev, 32. Jahongir Mehmonov, 44. Darko Stanoevich, 84. Nemanya Yovanovich.
Substitutions: 1. Akmal Ortikov, 3. Hasanboy Ergashev, 4. Abbos Otaxonov, 8. Ravshan Xursanov, 22. Ruzim Ahmedov, 33. Tohir Shamshitdinov, 77. Azizbek Turgunboev.
Join to SPORTS.uz channel on Telegram